El dragón se ahoga en su aire
China es un gigante en lo demográfico y en lo económico. Pero, además de las cuestiones políticas y de derechos humanos, la contaminación es su gran amenaza.
Fábrica junto al río chino Yangtze (Fuente: Wikipedia)
La advertencia del emprendedor de internet Ma Yun, que dice que ninguna cantidad de dinero puede proteger a los ricos de China del cáncer que produce la contaminación, ha hecho eco entre los usuarios de la web y muchos de ellos están realmente alarmados sobre la combinación tóxica de la contaminación del aire y del agua y los problemas de seguridad alimenticia.
Ma Yun, el Director Ejecutivo de la compañía de comercio electrónico Alibaba, en lugar de discutir sobre oportunidades de negocios, predijo en su discurso de la decimotercera reunión anual del 'Foro de Emprendedores Yabuli China' el 22 de febrero del 2012, que en 10 años el cáncer producirá problemas en cada familia china, refiriéndose al serio problema de salud que la crisis ambiental causa en China.
En Sina Weibo, el Global Times muestra un mapa de las "Aldeas de cáncer" en China (Fuente: Global Voices)
También subrayó que los ciudadanos deben ser mas conscientes del medio ambiente y no debieran solo confiarse en el gobierno:
Hace treinta años ¿quién conocía a alguien con cáncer? Cáncer era una palabra rara. Ahora se ha convertido en una enfermedad común. El cáncer del hígado podría tener alguna relación con (la contaminación) del agua; el cáncer del pulmón alguna relación con el aire; el cáncer gástrico tiene algo que ver con nuestros alimentos. Las clases privilegiadas tienen agua limpia, pero no pueden ordenar aire limpio. Me preocupa que trabajamos muchísimo y finalmente todo lo que ganamos se va en gastos médicos. Poco importa cuánto se gana, si no se puede disfrutar del sol, es realmente una tragedia.
Su discurso, compartido al día siguiente en el popular sitio de microblogs Sina Weibo por Caijing News, hizo olas entre los internautas, provocando mas de 99.136 reproducciones y 16.676 comentarios.
Un usuario de Weibo, "绿色传承生命 comentó:
No necesitamos 10 años; actualmente hay muchas "Aldeas de cáncer". El smog en Pekín está haciendo aumentar la tasa de cáncer en 67 por ciento. La contaminación es de lejos un desastre mayor que el que predijimos.
Otro usuario "高歌一曲abc" escribió:
Es por esto que elegimos ir a visitar a nuestra hija (al exterior) anualmente. Esperamos cada año tener la suerte de comer alimentos de calidad y gozar de algo de aire fresco y del sol, así podemos tener una mejor salud y vivir más.
Los comentarios de Ma sobre los problemas del cáncer en China no son una exageración. En Sina Weibo, incluso el periódico del partido comunista 'Global Times' compartió un terrible mapa de las 'Aldeas de cáncer' de China el mismo día del discurso de Ma Yun:
Según el Beijing Times, el Ministro de la Protección del Medio Ambiente publicó recientemente el "Duodécimo plan quinquenal de prevención y control de riesgos ambientales de los productos químicos", que dice claramente que debido a la intoxicación química han surgido las "Aldeas de cáncer" y otros problemas de salud graves han comenzado a aparecer en algunas áreas. Según el periodista Deng Fei, estas "Aldeas de cáncer" están extendiéndose desde China oriental central a China central oeste.
El 23 de febrero el Youth Times compartió también un mapa similar detallando la alta frecuencia de los diferentes cánceres en diferentes áreas de China.
De acuerdo al mapa, ciudades de China oriental como Shanghai tienen una alta frecuencia de cáncer gástrico, mientras que el sureste tiene una alta frecuencia de cáncer del hígado. Por otra parte en China, cada cinco minutos seis personas son diagnosticadas con cáncer y cinco personas mueren por esta causa. Según las noticias, la alta frecuencia de cáncer tiene mucha relación con un estilo de vida no saludable, donde el medio ambiente es una de las mayores amenazas para la salud.
Contaminación del agua documentada por los ciudadanos
Mientras los efectos de la niebla tóxica de mediados de enero en China continúan repercutiendo a lo largo del país, varias campañas en internet han puesto en el punto de mira la grave contaminación del agua, llamando la atención sobre el estado de los ríos del país.
A la cabeza de la campaña se encuentra Deng Fei (@邓飞), antiguo periodista de investigación y actualmente un destacado activista social, que invitó a la gente a tomar fotografías de los ríos y a publicarlas en el servicio de microblogueo Weibo.
#¿Cómo está el río en tu ciudad?# Mientras celebras el año nuevo chino en casa, por favor, toma una foto del río y cuélgala en Weibo para que lo veamos.
Recopilación de fotos de microblogueros mostrando la contaminación de los ríos cerca de sus ciudades. Snapshot of Pollution (@家乡污染全民拍).
Su petición caló hondo y fueron muchos los que, por medio de la web, manifestaron su indignación respecto a los ríos contaminados. Fotografías publicadas por los usuarios muestran basura y desperdicios esparcidos a lo largo de las riberas de los ríos.
Según el Ministerio Chino de Supervisión, se cree que cada día tienen lugar más de 1.700 casos de contaminación del agua. El Banco Mundial, en un informe de 2007 titulado El coste de la contaminación en China, calificó la contaminación del agua como un "problema significativo" en las zonas rurales del país, situando el número de muertes prematuras ocasionadas por la contaminación del agua y del aire en 750.000 al año.

Respecto a la contaminación, @xiaotaiyang1988 (@土豆_连种带挖) dijo:
#Comprobando el estado del río en mi ciudad# El foso de mi ciudad ha pasado de ser maloliente y sucio a muy maloliente y muy sucio. Se ha instalado una fábrica de productos químicos al oeste de la provincia, e incluso mi hermano pequeño que todavía está en el colegio dijo que el proyecto se instaló en nuestra provincia porque no se pudo abrir en la ciudad; y porque es un proyecto complicado dada la dificultad de atraer inversiones. Está emitiendo un humo denso (la fábrica). Las aguas residuales de los habitantes de la ribera fluvial van a parar ahora directamente al río, y mientras que hace algunos años la gente estaba dispuesta a resolver el problema, ahora hemos tirado la toalla. @DengFei
@FlyOnTheSea (@海阔依飞) escribió con sarcasmo:
#¿Cómo está el río en tu ciudad?# (el río) Es un área restringida a la que no puedes acercarte…
Algunos medios chinos se han unido también a la cruzada contra la contaminación del agua. The Beijing News (@新京报), un periódico conocido por su estilo crítico, mostró una horrible imagen en su cuenta de Weibo:
Según los expertos de la Encuesta Geológica de China, el 90% del agua subterránea ha sufrido diferentes grados de contaminación, con un 60% de contaminación severa. De acuerdo con Xinhua News Online, la información obtenida de departamentos de seguimiento destacados en 118 ciudades ha mostrado que alrededor del 64% del agua subterránea de las ciudades ha sido gravemente contaminada, el 33% ha sido ligeramente contaminada, y solo un 3% se considera moderadamente limpia.
Incluso el People's Daily (@人民日报), la herramienta de comunicación oficial del gobierno, ha intervenido y ha emitido una seria advertencia en su cuenta de Weibo:
【Micro-comentario: "Declara la guerra" a la contaminación del agua subterránea】 En medio del ambiente festivo, la realidad de la contaminación del agua subterránea ha inquietado a la gente. Deshechar el agua residual subterráneamente contaminará inevitablemente las fuentes de agua, perjudicará a nuestra generación y transmitirá el daño a la siguiente. Las empresas no deberían envenenar a la población en la búsqueda de mayores beneficios, las agencias gubernamentales no deberían relajar sus regulaciones por el bien del rendimiento de su trabajo. Queremos un PNB que no mate a la siguiente generación, y desde el gobierno hasta el público, todos deberíamos señalar la causa de la contaminación y mantener limpias las fuentes de agua para conservar la belleza de China.
Mientras el revuelo cibernético se intensifica y atrae cada vez más atención por parte de los medios, hay indicios de que los esfuerzos por exponer el alcance de la contaminación del agua han cambiado de rumbo. El abogado Gang Yuanchun (@甘元春律师 ) publicó un mensaje en su cuenta de Weibo:
【 Revelación de la contaminación del agua subterránea y bloqueo de la lucha de esta noche, periodistas retenidos, apoyo necesario 】De acuerdo con @DengFei y @FengYongFeng: Cuando la ciudad de Weifang en la provincia de Shandong envió gente a Pekín para hablar con "cierto departamento" para que aplicaran censura y así evitar la exposición mediática del problema de la contaminación del agua en la zona, las noticias de CCTV fueron bloqueadas con éxito en Weifang. Mientras tanto, los periodistas permanecen bajo arresto domiciliario en Weifang, retenidos por alrededor de 40 personas.
Más tarde el mensaje fue eliminado, demostrando la delicadeza del asunto.
La degradación medioambiental es al mismo tiempo una seria preocupación para el pueblo y un reto para el partido gobernante en China. La obsesión de China con el rápido crecimiento económico durante la última década ha costado un alto precio para el medio ambiente, enfureciendo a un pueblo que no se contenta con beneficios únicamente materiales.
El 28 de julio de 2012, miles de personas tomaron las calles e invadieron una oficina local del gobierno en Qidong, una ciudad en la provincia costera de Jiangsu, preocupados por la contaminación del agua próxima a una fábrica de papel cercana. Y en enero de este año, Global Voices informó sobre el caso de residentes de la ciudad de Handan que bebían y se bañaban en aguas tóxicas sin que el gobierno les hubiera informado de la contaminación del agua.
Mantener el equilibrio entre el impulso de una economía en recesión a través de la producción industrial y la posible agitación social desencadenada por una crisis de salud pública supone un reto abrumador para las autoridades chinas.
Mapas interactivos de contaminación
Hace casi cinco semanas, Pekín vivió el día de peor calidad del aire registrado: los niveles de PM2.5 — partículas pequeñas que pueden provocar enfermedades de pulmón, cardiovasculares y respiratorias — se elevaron más de 30 veces por encima del nivel que la Organización Mundial de la Salud considera seguro.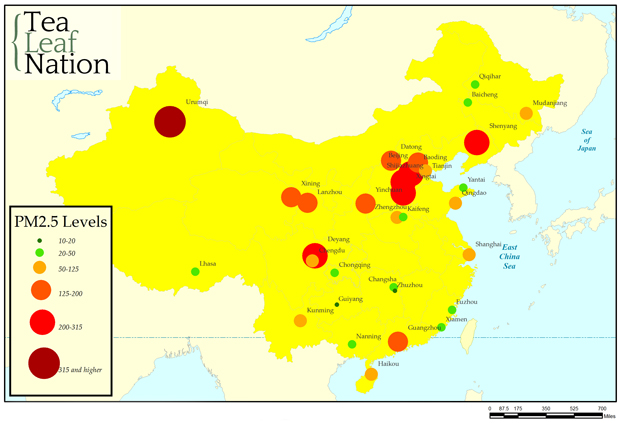 Calidad del aire en China — Instantánea (Fuente: ChinaFile)
Desde entonces, se ha informado acerca del "apocalipsis del aire" junto a lo que parece una imagen en blanco y negro de las ciudades icónicas del país — Pekín, Shanghai, Tianjin —, todas ellas envueltas en una niebla tóxica espesa.
De hecho, las ciudades más populares y prósperas de China se encuentran entre los epicentros de la última crisis de contaminación. En Tianjin, por ejemplo, los niveles de PM2.5 afectaron a 577 personas el 9 de febrero, víspera del Año Nuevo chino. En Pekín, las ventas de los fuegos artificiales del Año Nuevo cayeron un 37% después de que el gobierno municipal pidiera a los residentes que limitaran el uso.
Pero la calidad del aire en China también es un problema a escala nacional — una situación difícil que afecta a ciudades con menor reconocimiento que Pekín o Shanghai. La semana pasada, el People's Daily informó que 74 ciudades importantes, que el Ministerio de Protección ambiental chino observa, informaron el 10 de febrero, primer día del Año nuevo chino, acerca de concentraciones "excesivas" de PM2.5.
Y como una mirada a la contaminación, las cifras de esta mañana (20 de febrero) muestran que las peligrosas condiciones de aire continúan en toda China, desde Urumchí (con una concentración de PM2.5 de 511 microgramos por metro cúbico, o 20 veces más el límite recomendado) a Cantón.
Las ciudades con mayor contaminación en China
Xingtai, Hebei
Shijiazhuang, Hebei
Báoding, Hebei
Handan, Hebei
Langfang, Hebei
Hengshui, Hebei
Jinán, Shandong
Tangshan, Hebei
Pekín
Zhengzhóu, Henan
Las ciudades con menor contaminación en China:
Haikuo, Hainan
Fuzhóu, Fujian
Zhoushán, Zhejiang
Xiamén, Fujian
Huizhóu, Cantón
Zhaoqíng, Cantón
Shénzhen, Cantón
Kunmíng, Yunnan
Lhasa, Tíbet
Zhuhái, Cantón
Fuente: La contaminación y las aldeas del cáncer (Autor: Abby | Traductora: María Angélica Marín)

Fuente: Contaminación del agua en China documentada por ciudadanos (Autor: Owen Guo | Traductora: Soledad Méndez)

Fuente: Mapas interactivos de los lugares más y menos contaminados (Autor: Tea Leaf Nation | Traductora: Rocío Fernández)